PLSMGN! A Remake of a Ludum Dare Game! :D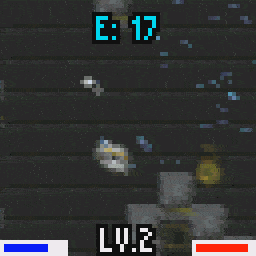 I don't know how many people read this, or if anybody will read it at all, but here it goes!
So, I recently took part in the 39th Ludum Dare and made a game, called PLASMAGUN!. It went kinda rushed, but I liked the base concept and how it came out, and wished I did have the opportunity to rewrite some of it. Then after LD finished, LOWREZJAM happened and I thought "why not?", since a twin-stick shooter in 64x64 sounded really nice.

And then I rebuilt the whole game, graphics, re-recorded voice overs and added a new soundtrack, with a more relaxed time (did it in almost 5 days) and it came out, to me, way better than the LD version. This is, also, one of the motives I kinda avoided promoting this project during LD. :P
The outcome of this rebuilding was kind of a mix between a remake and a demake, which I called PLSMGN!, which is available here, on itch! :) I do plan on making it into a bigger, better game, but I'm quite happy with this low-rez version, so I hope you'll like it too! :D
Thanks for checking out this project! ;)
Files
plsmgn-0.0.0.1.zip
(

6 MB

)
34 days ago